Be a Mountaineer!
ThinkCollege.net is a helpful website with information about different colleges and programs around the country. Depending on how long you want to attend and what you are looking for will determine the best place for you. Ask your counselor for additional resources and information.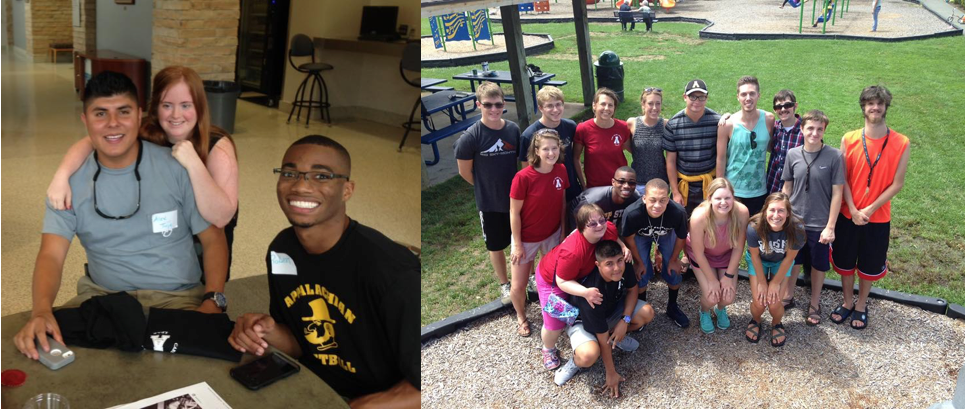 SDAP is a 2-year program. Attendees of SDAP choose a program of study which means they:
Participate in courses specifically chosen around their career area of interest,
Take courses that are interesting to them personally
Participate in on- and off-campus employment and internships around their area of interest.
Additionally, the students participate in social and co-curricular activities, live in inclusive residence halls and adhere to the same standards of conduct that all students on Appalachian's campus must follow. When SDAP students complete the requirements of the program, they will receive a Collegiate Achievement Award and walk in a Commencement Ceremony with the College of Education.
Experiencing Appalachian
Watch Mieszko (SDAP alumni) present his senior video project, to learn first-hand some of the things students are interested in and participating in while at Appalachian State University.
The students enrolled in our program are:
highly motivated
life-long learners
desiring of a college education similar to peers and family
interested in being self-advocates
desiring of personal independence
practicing interpersonal skills
setting personalized academic, career, personal and social goals
working towards self-determination*
*Self Determination means being able to make your own decisions. For all of us, this is a balance between ourselves and the systems we live in (families, social groups, laws, government). For people with disabilities, sometimes these decisions have been made for the students and making the best decisions can be challenging because of a lack of understanding and experiences. Our goal is to help students learn to make their own decisions and we do this by providing them with opportunities to exercise the decision making process with with support.
Does this describe you?
While the SDAP program aims to provide an academic, social, and career training experience to individuals with intellectual disabilites at App State, our program may not be able to accomodate all of your needs, particularly if they are behavioral or emotional and impede learning or social development. Please contact the SDAP program prior to applying if you have any questions or concerns.