Faculty
Being a professor as a natural support: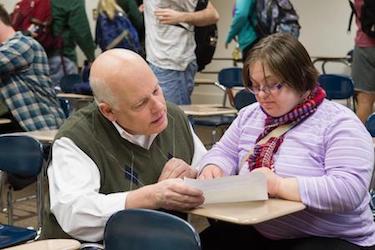 Being a professor in any student's life is an important role to hold. You support, encourage, teach, model, challenge, and guide your students every semester within your classes. Having a student with intellectual dissabilities in your class is no different. Scholars enter college usually with a specific career path in mind and pursue academic courses that align with those career interests.
Scholars work with SDAP staff, graduate assistants, and their professors to modify assignments and activities to create equal opportunity to learn the material from their courses. When scholars seek to modify an assignment, they (and sometimes thier GA) typically meet with the professor during the professor's office hours. The scholar's GA can take primary responsibility for writing any assignment modifications, at the discretion of the professor.
How SDAP supports you:
Maintaining a working relationship through regular communication, and fielding other requests and suggestions from you, the Scholars, natural supports and tutors.
Modifying assignments with your permission and/or suggestions to best benefit SDAP Scholar's success in the course.
Providing a natural support to assist Scholars in the classroom by encouraging participation, helping with class calendars, taking notes, etc. when such support is necessary for the studet to fully access the course. These natural supports are peers who work with scholars as needed in class, provide tutoring, and support engagement in other aspects of college life.
Being available to you for questions or concerns. You may speak with the scholar's graduate assistant or you may contact our Academic & Life Skills Coordinator, Dr. Rebekah Cummings, at 828-262-2276.
As an instructor you...
Teach your course as you normally would. You are not required to make any changes in your syllabus or teaching style.
Provide our office staff with access to AsUlearn, your syllabus and other materials so that we can modify assignments and support the Scholar. Your participation in the modification of assignments is helpful but voluntary. Your feedback however, is valuable and important to the scholar's success.
Allow the Scholar to determine whether or not they want to be identified as part of the program within your classroom.
Students will personally advise you regarding any further in-class accommodations they will need. i.e. 5 minute breaks, standing at desk rather than sitting.