Are you a degree-seeking student or Appalachian Faculty interested in becoming a part of the SDAP support team?
There are a number of ways for campus members to become involved with the Scholars with Diverse Abilities Program. The pages on this website offers more information about support roles for campus members interested in working with scholars. For more information, please contact sdap@appstate.edu.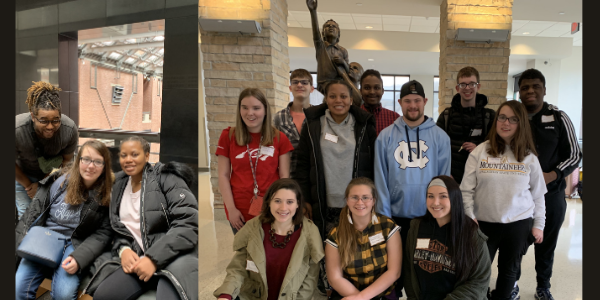 Ways to Support:
Faculty
Any App State Faculty teaching an undergraduate course can become a natural support for SDAP by allowing SDAP students to audit courses. Additionally, Faculty members can also help SDAP in promoting our program to all students so that Mountaineers from different majors and concentrations can learn about ways they can access volunteer, fellowship, internship, and other work experiences through the program. Learn more about how faculty can contribute to SDAP by viewing our Faculty Page.
Volunteers
Our volunteers support students with navigating their new college experiences by supporting students with meals, getting around on campus and in Boone, attending events, academics, and more! Learn more about becoming a volunteer by viewing our volunteer page.


College Life Fellows
As we all know, college is about more than classes! Our College Life Fellows live on campus in the residence halls with students as they work together on building life skills and preparing for independent living after college. College Life Fellows receive between $500-$1,000 of funding each semester and do not have to enter the housing lottery. Learn more about becoming a fellow today by viewing our College Life Fellows page.
Graduate Assistants
SDAP has limited spots available for graduate students who are interested in offering person-center-planning and advising to scholars as well as leadership and supervision to interns and undergraduate student support staff. 10-hr and 20-hr assistantships available. To learn more about the graduate assistant role, visit our Graduate Assistants Webpage.
Interns
SDAP is proud to be an internship site for various academic programs and is open to considering interns from many academic concentrations. Please contact sdap@appstate.edu if you are interested in becoming an intern.